Papercraft Tintin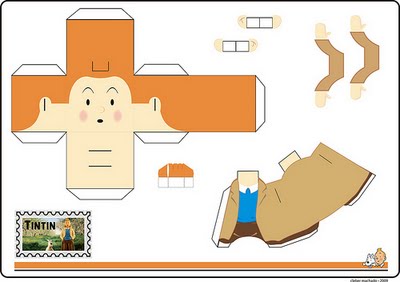 Here's a cute,
super-deformed
-style
papercraft
version of
Tintin
to build and display. I haven't found a
Milou/Snowy
yet; but with
Steven Spielberg's new Tintin film
scheduled for 2010 (or 2011 - I've seen both years mentioned), I predict we'll be seeing more and more Tintin-related fan productions like this as the film's release approaches.
Here's what the finished model looks like: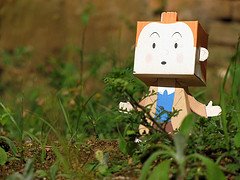 Link & image credit:
Paper Toy Tintin
(via
The Tintin Blog
via
Super Punch
). Be sure to download the
large version
.
---
Also: There are lots of other comics-related paper projects out there, especially at
Christopher Beaumont's Cubecraft
, which features characters like
Wolverine
,
The Tick
,
Scott Pilgrim
& company,
Hellboy
, and even
Spider Jerusalem
(!).
Anime
and
videogames
-
even literature
- often inspire more complicated designs.
---
Note: Tintin is Copyright © Hergé / Moulinsart 2009.
The Tintin papercraft model was released under a Creative Commons Attribution-Noncommercial-Share Alike 2.0 Generic
license.
Labels: films, papercraft, Tintin
Links to this post: